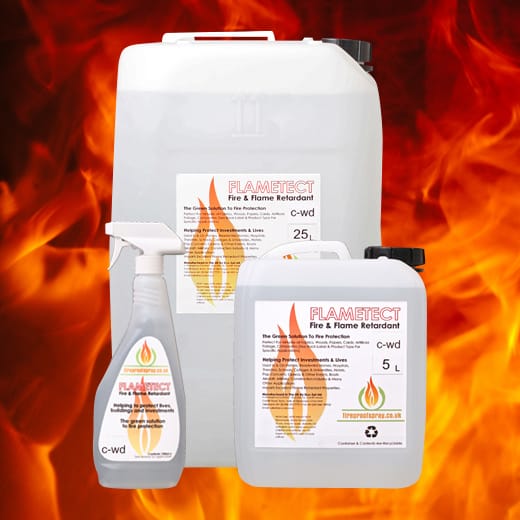 Flametect CW-D For Wood
Wooden buildings. Many of us may own one or would want to own one. But when it comes to dealing with the combustible nature of wood, what can be done if anything? Is there such as thing as fire treated timber? Can you have Surface spread of flame on timber? 
Depending on the distance between the wooden building and the main building, fire treating the wooden building may be a legal requirement (it may be worth speaking with your local Building Control to establish this). For many people, Flametect CW-D has been the answer. Not only because it can treat wooden buildings, but also:
Wall Partitions
Reclaimed Decorative Cladding
Timber Decking
Garden Office
Garden Shed and Fencing
Traders Market Cabins
Testing and Standards
The testing of this timber treatment has allowed it to comply with BS476 Class 0, Class 1 & Euroclass B.
Using Flametect CW-D has advantages due to its colourless and odourless nature. Apart from this, it is clear and will not discolour timber or other materials derived from wood. It leaves a natural finish when dried and does not leave a visible sheen. The special couplers within the water-based solution protect the flame-retardant components when exposed to harsh and tough environments which make this a weather resistant impregnation treatment.
Naturally, it is also environmentally friendly.
Re-Application
One of the factors that building owners and other responsible people take into account is the potential maintenance costs that can be incurred for passive fire protection, in cases where reapplication may be required. For as long as bare timber (not painted or coated) is being used, Flametect should be absorbed then fully impregnated into the timber. This means that the solution should remain in the timber for the life of the timber for as long as it is not sanded. It must be noted that Flametect CW-D is not suitable to make standard doors into "Fire Doors" so if you need to turn your timber doors into Fire Doors, contact us and we will explain and guide you through the whole process.
[vc_empty_space height="30px"]
[vc_cta h2="Flametect CW-D For Wood" shape="square" style="outline" color="black" add_button="right" btn_title="BUY ONLINE" btn_style="custom" btn_custom_background="#ed0404″ btn_custom_text="#ffffff" btn_shape="square" btn_align="right" btn_link="url:https%3A%2F%2Ffireproofpaint.co.uk%2Fshop%2Fintumescent-paint%2Fflametect-c-wd-clear-flame-retardant-5l%2F|||"]For bulk orders/trade enquires please call us – 01752 690997.[/vc_cta]
International Passive Fire is a leading supplier of fire proof, heat resistant and fire retardant products into the trade nationally and internationally. For more information, please call us on 01752 690 997.