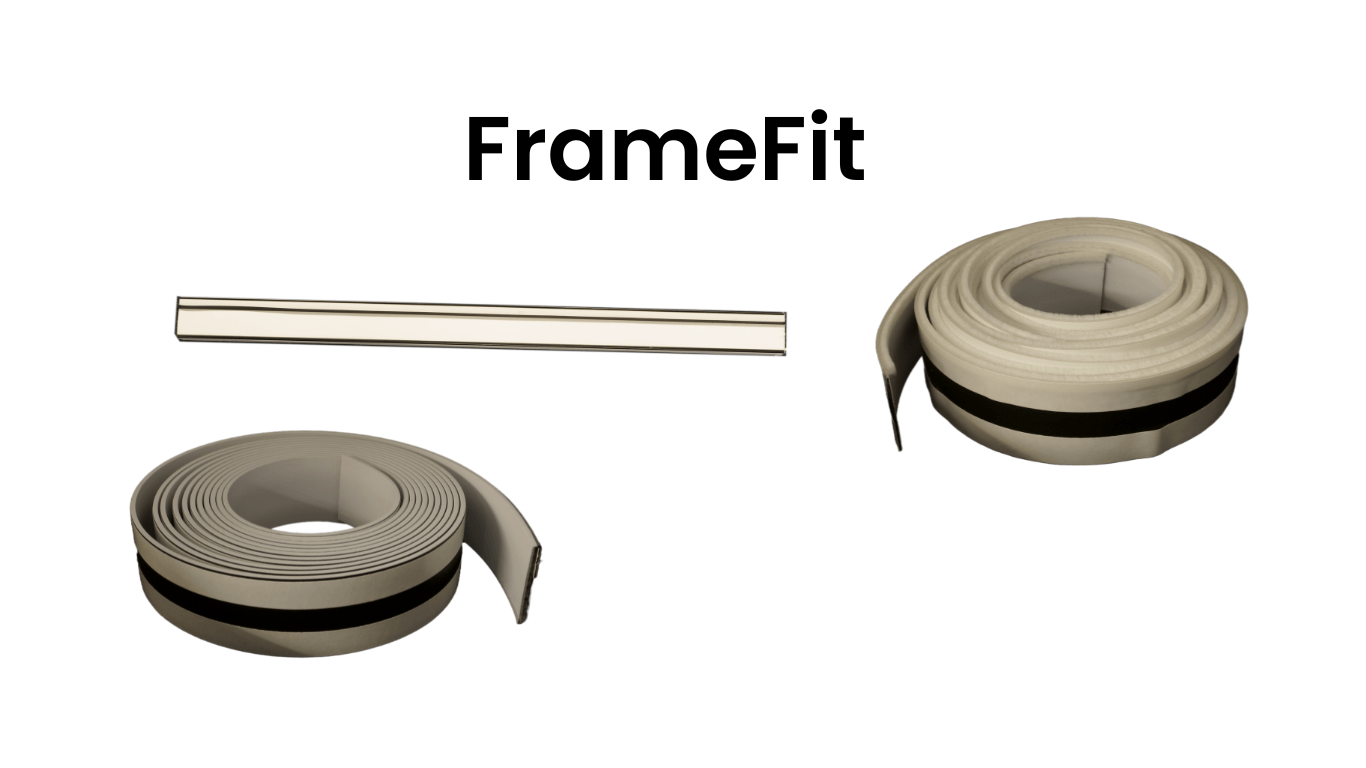 Introducing FrameFit – a revolutionary product range for non-compliant fire doors
UK building regulations set parameters on what constitutes a compliant fire door. Part of that relates to the gapping in between the fire door and its frame.
Many fire doors are unfortunately not installed correctly, resulting in gapping which exceeds the requirements.
FrameFit is a new product range which is designed to narrow down the gaps down in non-compliant doors. This article will set out the three different products in the range and how they work together to achieve gapping compliance.
Low Modulus (LM) Seals
FrameFit Low Modulus seals are the most commonly used FrameFit seals.
Use them on their own in the following scenarios:
On doors which have no smoke rating requirements. Please note that fire only seals must still be used in the door.
On doors with fire and smoke seals in the door.
They come in either white or brown, plus in different thicknesses: 1.5mm, 3mm and 5mm.
The different thicknesses can be used together, if necessary, to close down gaps. For example, a 5mm and a 1.5mm strip can be used together to close down the gap by 6.5mm.
High Expansion (HE) Seals
FrameFit High Expansion seals are usually used in conjunction with Low Modulus seals.
They are 1.5mm thick + a 4mm smoke seal brush and are needed on doors with fire and smoke seals installed into the frame.
Remove the fire and smoke intumescent strip from the frame, then use as much low modulus FrameFit as required, followed by the HE seal on top to create a smoke seal. If no low modulus is needed due to the gap size, just install the high expansion seal.
Bottom Door Seals
The FrameFit Bottom Door Seals are plastic holders which are designed to carry Framefit Low Modulus seals and then be mechanically fixed to the bottom of the door.
Say your door gap needs to be reduced down by 3mm, simply install a 3mm low modulus strip into the bottom door seal and fix this to the door.
---
FrameFit Low Modulus and High Expansion seals come with alcohol wipes to clean down the door frames, pins to hold the seals in place, plus stickers to label each door with.
The products are sold in 5.2m rolls. You can either purchase 44mm wide strips (for FD30 doors) or 54mm wide strips (for FD60 doors).
They have been tested for up to 60 minutes according to BS476 part 22.
Installation details are demonstrated in this video FrameFit Fire Door Upgrade for closing gaps on door edges and thresholds – YouTube
For further technical details, please call us on 01752 690997, or email sales@fireproofpaint.co.uk.