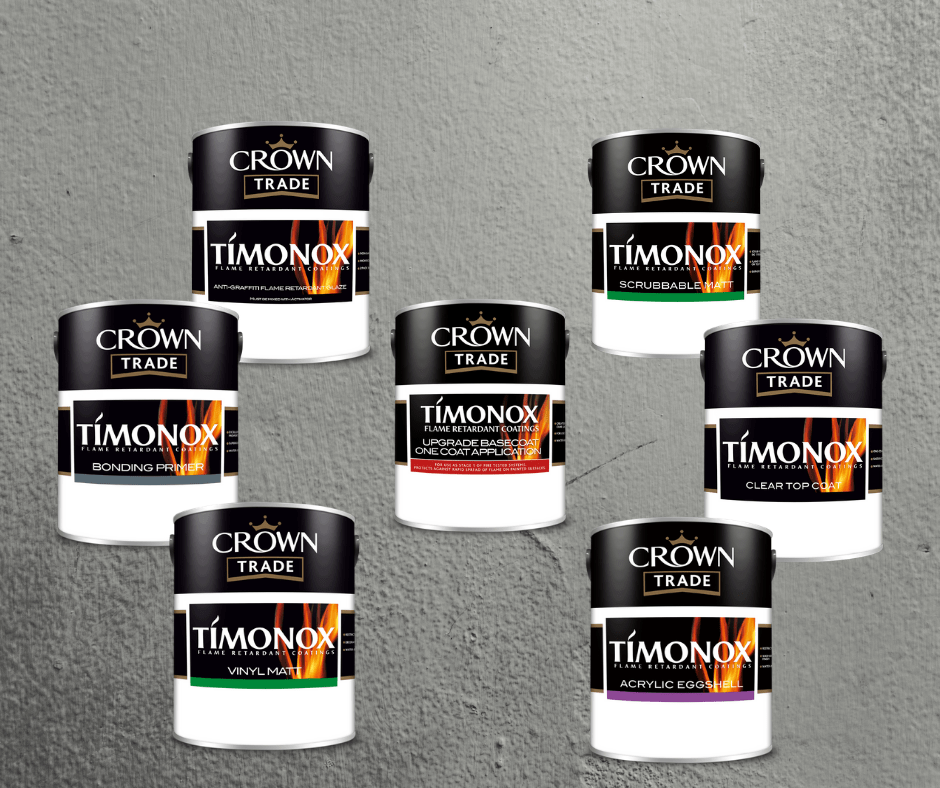 What is Timonox?
We are proud to now be stocking Timonox, a range of Crown Trade intumescent paints that can be applied to walls and ceilings.
The range is made up of:
Here we answer some FAQs about these products:
1) Can the paint be applied over ready-painted surfaces?
Provided that the surface was correctly-prepared and the paint adhered well, then yes. For the correct coating system, please contact us on 01752 690997.
On fresh plaster and surfaces coated in harsh substances, such as anti-glaze, we highly recommend Timonox Bonding Primer to prepare the surface and ensure correct adhesion.
2) What colours does the paint come in?
Crown provides a whole range of different shades, including clear. Do ask a member of our team on 01752 690997 for more information.
3) Do you have any solvent-free paints?
Yes, all of the Timonox range is solvent-free.
4) How do you apply the paints
You can either apply them by brush or roller. Some also allow you to use an airless spray. Please follow the product's data sheet to ensure correct film thickness is applied.
5) How many coats do I need?
As always with fire retardant paints, it depends on the micron thickness you apply. Please follow the product's data sheet for the correct thickness.
This if the first of a series on Timonox. Click here to read the next article, on Timonox Bonding Primer and Upgrade Basecoat. If you would like to speak to a member of our technical team about Timonox, call us on 01752 690997.